My mantra is
"Everything Has A Home"
and that applies not just to the kids toys, or blankets and magazines, cloths and socks but also to the pantry! As a mom who cooks...alot...I need very desperately for my pantry to be organized for 2, 3, 4 reasons...
1. How do you know what you need from the grocery store if it's scattered all over the place.
I am not the person who goes to the store with no list...oh no no. I am fully prepared when I go grocery shopping. I hate it so I want it to take as little time as possible.
2.

I am a SAHM, so like so many others we are living off 1 income.
This goes hand in hand with #1. Why buy what we don't need because I can't find what I'm looking for in my pantry.When I make my list I total how many of each item I will need. I like to be prepared, I don't want to over buy and spend more than I need but I also don't want to under buy and have a whole meal less the main item I need to make it (which leads to eating out usually).
3.

I am to busy doing stuff I enjoy to spend my time at the grocery store because I don't know what I need.
#'s 1-3 pretty much all go hand in hand. I am busy....all the time busy.....if you want an idea about how busy I am visit my post....it's insane but I love what I get the chance to do for my friends and family so the less time I spend doing stuff I don't like to do the better.
4.

When I see everything in it's home I feel so much better!
I have found that when my house is in disarray so is my attitude. I am grumpy and snappy and just not a whole lot of fun. It makes me anxious. So fortunatly I am in the time in my life where I can spend the extra few minutes here and there keeping it up. And it makes me feel better! Life is so much easier when I can open my cabinet and see that I have a box of brownies...yum...and then make them. Crap now I want brownies.....
So after all that, this is my pantry and these are my tips to an OCD pantry in your home!
Keep all like stuff together, stacked neatly and facing the same direction. Corn, Green Beans, whatever keep it together and face it the same way so you know. I mean seriously there are like 50 different kinds of canned corn and green beans and other beans you can buy. No sense in opening a can of cream corn when you ment to open the kernal corn.
OCD Pantry Tip #2:Use baskets and storage...when it makes sense. Baskets and storage are great but sometimes you just go through stuff to fast to really need another storage solution. I love pretty but I love pratical even more. Our family eats ALOT of pasta dishes, so I keep the pasta in it's original boxes. Sure I could buy some pretty container and dump them in but why??? I cook with every kind of pasta out there and I am buying pasta each week, so why spend time and money on pretty containers...However, I do keep all my snacks in a basket so that the boys know what they have to snack on when they get home from school and I also keep all my boxed food in a basket. The same goes for items like coffee, tea, sugar and flour. I bought plastic containers for each to put them in. But like with my tea, I have several kinds of tea, I have containers for each and they are all in a row with the most used up front.
OCD Pantry Tip #3:
If it's something that the kids have free access to,
put it low
!
A kid is the worst enemy of the pantry! My pantry screams in fear every time one of my boys open the door, and it gasps in astomishment when the hubby opens the door. HAHA. Sorry had to laugh at myself....Anyway put the stuff that they have access somewhere that they can actually reach! If they have to reach to get to it, chances are everything in the way of that one thing they want will be destroyed and you will be left picking up.
I don't put my cereal in a cute container because boys have no respect for cute contaniers, and because we eat ALOT of cereal so again why bother.
OCD Pantry Tip #4:
Label, Label and more labeling! If you use the baskets and containers and want to really dress them up label! It's a fun way to make your pantry shine! And I just love pretty stuff!!! No really, label so you know exactly what your getting. I'm just gonna say there was this one time I was baking a cake and I had all my ingreidents out...sugar and flour....and got them mixed up. I bake in a flurry, it's alot like an octopus flailing and grabbing stuff. So needless to say NO GOOD! Label your stuff and never let that happen to you!
You can check out
this post
for more on the labels I did!!!
OCD Pantry Tip #5:
I got this one from a blog a few years ago, so sorry I don't remember which...bad blogger bad...and she saved my life, it applies to boxed items. If it doesn't need to stay in it's box, then get rid of the box! Boxes take up space, valuable space and they are usually ugly, so just throw them puppies away. This is why my cereal is not in a box, or my snack stuff. I can put 5 boxes of snacks into one small basket so I do. This also helps me to monitor the food intake and when I need to reup. But make sure you are investing in some kind of clip to hold your bags....just sayin...stale Frosted Flakes are not good.
Use all your space! High and low. Stack and row.
We are very fortunate that when we renoed our kitchen we were able to design our cabinets how we wanted them and the
best thing I EVER
did was request drawers. I
LUVRE
my drawers so much, my heart sings every time I open them. I use these drawers for all the daily stuff, which is also all the stuff the kids have free access to. So score and score! If you have them use them, if you don't find away to get them!
Really though, use all your space neatly and your pantry will look like a million bucks!
So there friends. You have seen my pantry in all it's glorious glory, I hope that this helps you to maintain an OCD Pantry too!
Jen
This post is linked up at:
Tatertots & Jello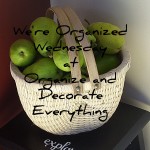 Thrifty Decor Chick Organize It Party